Well, in regards to being a knit blogger, I lose. The closest thing was casting on for an attempt at fair isle/arglye and promptly got ticked off with sweaty palms + acrylic + metal needles + sleep madness, so I gave up. I have now added another potential sweater, 'Casual Cables' from the Patons 'Shetland Ragg' booklet. That now brings my choices to three: design my own, Basketcase, or Casual Cables. It makes me realize that yarn is expensive. I have never bought more than three balls of any given type of yarn for a project before, and now I'm faced with anywhere from $80 to $130 for a sweater. That is too big of a portion of my paycheque...
My header says I do crafty things beside knitting. This is as good a time as any to show one off.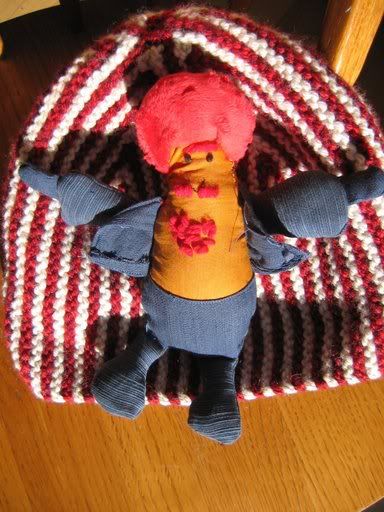 He is my second sewn plushie, the first was an extrememly basic webcomic character for a friends birthday (krakkagar from Scary Go Round). But this little dude was solely of my own contriving. He came to me in a vision... "Fat man in a bellbottomed suit with a big red 'fro". And I knew he must be made. He is far from perfect, and nameless, and may yet be given to my good friend Ms. W. as a birthday gift (she is out of town, so I may mail him away).
I kind of like him, and oy, that chest hair? Tres Smexy!